FMC4ME gives Fresenius Medical Care employees access to several services through the official portal once they have successfully completed the activation process. However, there are times when you will not remember your password, or you enter it incorrectly. This guide will walk you through the process of resetting your password.

Forgot Your Password? Here Are The Steps To Reset It
If you forget your FMC4ME account password, you don't need to worry because following these simple steps can ensure you can overcome any difficulties that might arise:
To initiate a Reset Password process, click "I forgot my password" from the Sign-In screen. On the Reset Password page, you must enter your User Name and the Captcha challenge text.
Click Refresh next to Captcha if you are having trouble reading the Captcha characters. You will see a new set of characters.
After answering your security questions, click Submit. You have six chances to enter each correctly. Your account will not be activated if you try again after these attempts. In case you are having trouble resetting your password, contact the Help Desk.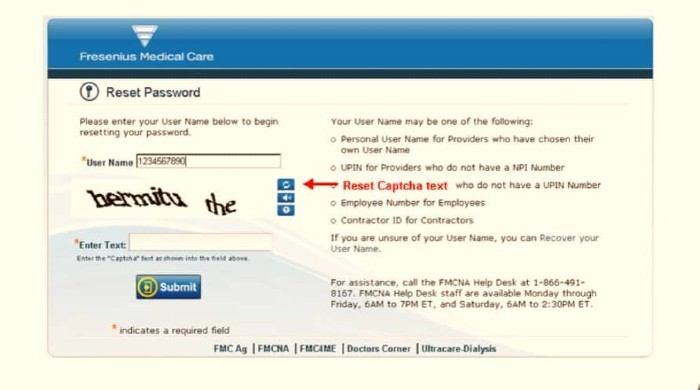 A new password is automatically generated and displayed on the screen after answering the questions. Note this password down so you will not forget it.
Return to the FMC4ME Sign-In page. Enter your username and the automatically-generated password, and then click Log in.
When you sign in with the automatically-generated password, FMC4ME prompts you to change your password. In order to change the password, the old and new passwords must be entered. After the password change is complete, you will receive an email stating that your account has been reset.
The Help Desk could help you if the email did not include a password reset link. Please contact them as soon as you know if this has occurred.